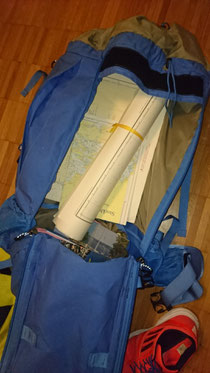 Friday evening right after work Martin and I took the train to Biel to meet up with Katja and Lukas and their son Lukas that is almost 3 years old now to have dinner and discuss them coming along sailing again. Since we took the train all my gear needed to go into the rucksack. Luckily Martin has this big Fjällräven one in Nato blue where all fitted in.
We were welcomed by Lars in Biel who had to show us all his toys and drive his car around the fireplace - awesome, kids are so authentic, love it!
We then had Raclette which smoked up the living room well, so we asked Lars to come with his firetruck! 
Great dinner that was topped off with pannacotta with berries on top, really yummy! 
Well after being so stuffed we checked out the sea charts and harbor handbooks. Sadly it turns out that the weeks in June that would be suitable with Lars are impossible, since other commitments have higher priority. So we part with the plan that Katja, Lukas and their then bigger Lars come along next time! 
So everybody, be prepared I have to continue to take sabbatical in the future to do other sailing trips!