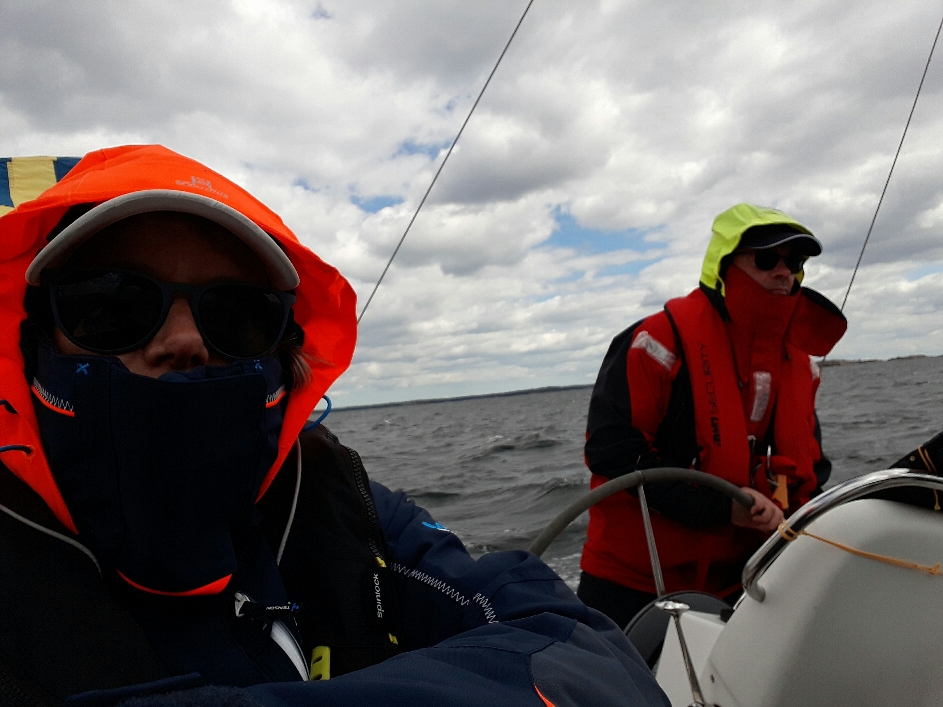 Yesterday the day started with me cleaning our coffee pot and while rinsing it in salt water off the back of the boat suddenly the glass container loosened and I saw it sinking to the bottom, myself still with the handle. So this morning, we had to use the Italian espresso cooker that I brought. 
Our route was going south west yesterday along the big island Utö at the beginning. I wanted HD to see the oldest lighthouse on Öja so we set out to make a break at the north harbor of Öja mid day. 
The narrow passage very well marked with red and green sea marks just north of Öja we managed sailing through with the motor on as a risk mitigation of necessary. 
When we arrived at Öja north harbor we got in to check if we could harbor. We needed to circle to get back out again. Since we have north wind the harbor was not an option for stopping except we would lay the boat longside at the pier, which a fisherman with his boat suggested standing on the pier. 
Just this moment of conversation with both of us paying more attention to the conversation than keeping an eye on what the boat did had brought us awfully close to the pier. We reacted immediately reversing the boat and with joint effort HD and I got the boat out safely from the narrow harbor. 
Now we needed another safe place for the night and headed to Ringön which has numerous spots to choose from. 
Arriving here around 19h we sought out an ideal spot and now have had a totally quiet night in another beautiful location.