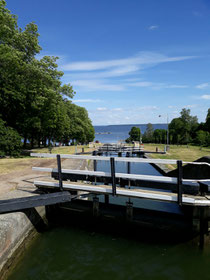 Yesterday we worked awfully hard climbing up Bergs lock stairs and additionally a couple of double locks. We climbed over 30 meters high. 
Last night we spent in Ljungsbro, which is well deserved but again not as far as I had anticipated. 
I know now that the information provided by Göta kanal website must be more than optimistic.
So I have arranged for both Nila with Gian and my mum to come to Motala harbor rather than the picturesque town Vadstena. 
What worries me now is that the next stretch Göta kanal with the new crew probably also will take longer and that adds up to perhaps being to late for the midsommar harbor Läckö slot? We will see what happens!