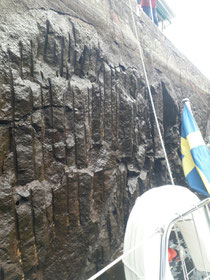 Today we left Karlsborg and passed through Forsvik to reach the highest point of Göta kanal. 
We've reached Vassbackens harbor by now. We realized that it would have been better to stop right after passing through the lock in Forsvik. Here in Vassbacka at the cafe Nila found a brochure telling all that we could have seen in Forsvik. Apparently the start of building Göta kanal and the deepest lock.
We only had drops of rain today, nothing compared with yesterdays downpours. 
Even quite a lot of sun was part of our day. Gian even got so hot he shed one layer. 
At the first lock hand manoeuvred and only about 30 cm downwards, Gian and Nila helped the harbor master opening the lock doors. 
Now we are resting and preparing for dinner: grilling!