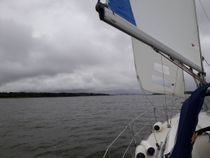 Weather was not great today again, but at least less rain than yesterday.
We finished Göta kanal today by passing through the last lock into the Vänern lake after 10 o'clock after waiting for our turn to get out. 
The first 40 minutes we were still getting out of the wavy area in front of Sjötorp. As soon as we could head directly towards Mariestad, we could set sails.
We sailed for a bit more than an hour and under a bridge with just 2 meters extra room for our mast.
Nila helmed the boat for a while and we had rain passing through of and on.
Arriving shortly before 14h in Mariestad, we could not get diesel, because the pier was occupied,  so have to do that with the new crew. Shucks! Also the few spots close to the toilet house were taken or not optimal for our boat, so we ended up at spot #19, very far away from electricity. 
My mum has some of her cousin's here in Mariestad. So she arranged a meeting and we got invited to dinner. 
But before Jan gave Nila, Gian and me a lift to the supermarket to get missing stuff for tomorrows breakfast, like coffee and what we need for midsommar tomorrow at lunch. 
Dinner was magnificent and the old house fascinating. 
Thanks Mariann and Jan for your hospitality!