Just when Fredrik was getting the hang of rowing, this broke. Linn tries tomorrow to get a spare. But these unexpected things take time to replace and find the right shop or person to turn to for help.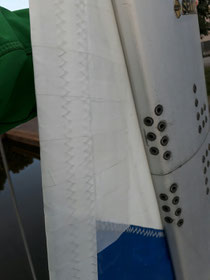 The main sail has a rip that I taped with spinnaker tape and consulted Hans the owner about. He advised me to get it repaired. 
Well, that means finding a sail maker. I managed to contact one here in Gothenburg and sent him the pictures. He agrees it's an exposed stress area of the sail and the taping only holds so much. So it definitely needs repair! 
Problem is the sail maker doesn't have time, earliest next week. So I will make arrangements for repair when I return to Gothenburg the upcoming week or have it repaired in Strömstad if I can. 
For now I will continue with my taped repair, but keep it under close watch. 
Just so you know, this will probably cost a day for repair either this week or next one - sorry to cut you short of a day sailing and prolong another day!