Posts tagged with "locks"
---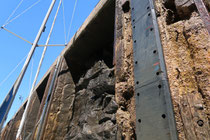 Today started before 10 o'clock, which had been our goal yesterday, since it's the longest on water today. We were ready at 9.55 and used our VHF radio to call for opening of the first bridge. A while later we reached Trollhättan lock stairs with one huge lock drop and then additionally 3 in a row. Compared to Göta kanal with the highest height difference a bit over 3 meters, Trollhättan was amazingly high! Also the walls where partly still the surface of the pure rocks that the construction...
I'm learning that both travelling with kids and going through locks, demand that you adapt. You can't push to get your will through, rather have to do the best out of the situation. I don't have kids of my own and I guess travelling with kids is also different to what it is living with them in their own known environment. I wanted to have kids come along since my childhood memories were created in the archipelago and have been a driving force to do this project. Right now Fredrik isn't feeling...