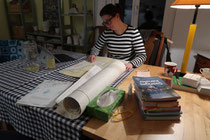 My dear friend Thanya had invited me to dinner and discussing which weeks she should come along. Since she has to get up at 5 for work, we even decided me to sleep over so we would have enough time to catch up and plan together. 
We narrowed her 2 weeks summer sailing down to a slot in July and an alternative in August. 
The July one would offer the opportunity to sail with Daniel and Margaret, which became dear friends last time sailing together in Åland July 2014.
I remember them not knowing each other and they both, Daniel and Margaret are married, had to find each other on the ferry from Stockholm to Mariestad, Åland. They told me on the ferry having spotted each other and instinctively known that that or they were the other sailors to join Sofia for sailing. 
So now there is a chance of a reunion in other waters.