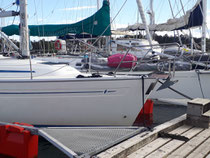 Today we had planned to do a shorter day of sailing. Things were interesting going through market passages mostly sailing just with the Genoa and the motor on as a safety net. We needed the motor a few times because the gusts came from a different wind direction and could cause a shift that went against the marked narrow passages. 
Around 15h the wind shifted and almost died but picked up again after a while. 
HD and I had agreed to be docked around 16h today. So we looked into 2 options of natural harbor, but since they were narrow and the wind prediction for the night is from NW to south wind, I didn't dare one of the options. 
Finally we decided, even if it is not very charming to go to the close by harbor Oxelösund. 
Today is Swedish national day, so most things are closed.