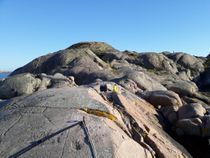 We had a moderate leg of sailing in front of us today and left Mollösund after another swim shortly before 11h.
Still clear blue sky today heading north to our first natural harbor. Again I chose to go most of the way over open water. This turned out to be fast, but extremely uncomfortable, since the waves with a strong west wind came in fairly high from the side rocking us around quite a bit. Also keeping the course was not a piece of cake, since everyone wave turnd us at least 20°.
Linn felt a bit uncomfortable, but managed. 
As I've been told natural harbors here on the west coast tend to be full. That's what we found when arriving around 15h, all good spots taken. 
We talked with one guy who had some space next to him, but with the wind not ideally, mostly from the side,he suggested to go at the top of a rock to the left or his boat. 
Because of that I hadn't followed my own rule, to get the boat stopped in front of where to get off and check it myself. 
We managed, but the boat had contact with a stone just under the water surface because the bow wandered sideways. Shucks! Have already confessed to Hans the owner! 
We got help from neighboring boats to tie up and got away from a boat laying sideways towards the rocks. The woman on that boat, didn't believe we would tie up safely and kept complaining.
We managed after a lot of adjustments and are now safe for the night and away from her boat. 
At 16h we turned on the radio to hear the soccer match between Sweden and Switzerland. When Sweden scored a goal a lot of cheering came from different boats. 
Tomorrow we continue north and I still haven't settled my mind. Will we press on to Strömstad or go less far north only to Grebbestad. That way both weeks would profit from a bit shorter days, especially since on Friday the 13th I need to have the sail repaired. 
Not so many pictures today, had to keep my hands to the wheel!