Today started with leaving Kåseberga at 9 o'clock to free the boat of our friendly neighbors that we were tied to. 
Hardly any wind was there when we left the harbor and a clear blue sky awaited us. So under motor Anna and I exercised with the Terraband until Anna split it in half with her forceful pulling. 
We could start sailing before we passed Simrishamn, which would have been our end destination for the week. But since I have been pushing my last two crews to cover more, since my crew next week canceled. As you know Anna on the boat now will stay a bit longer and hopefully we end up in Karlskrona. 
Well we were sailing along and passed Simrishamn and suddenly on the horizon clouds just above the water appeared in a gray shade. 
Suddenly the cloud surrounded us -fog - and the shore line got hard to see. 
I decided to take down the sails and head on towards Kivik by motor. 
I doubted my decision a few times afterwards because the fog tightened and then loosened off and on. We could mostly see about 150 m ahead and kept watching for other boats. 
We headed towards Kivik harbor via GPS and just before the harbor I turned the boat to the heading 214° for the harbor entrance. Suddenly the harbor was clearly visible in front of me. 
We managed a perfect boye maneuver and the fog subsided.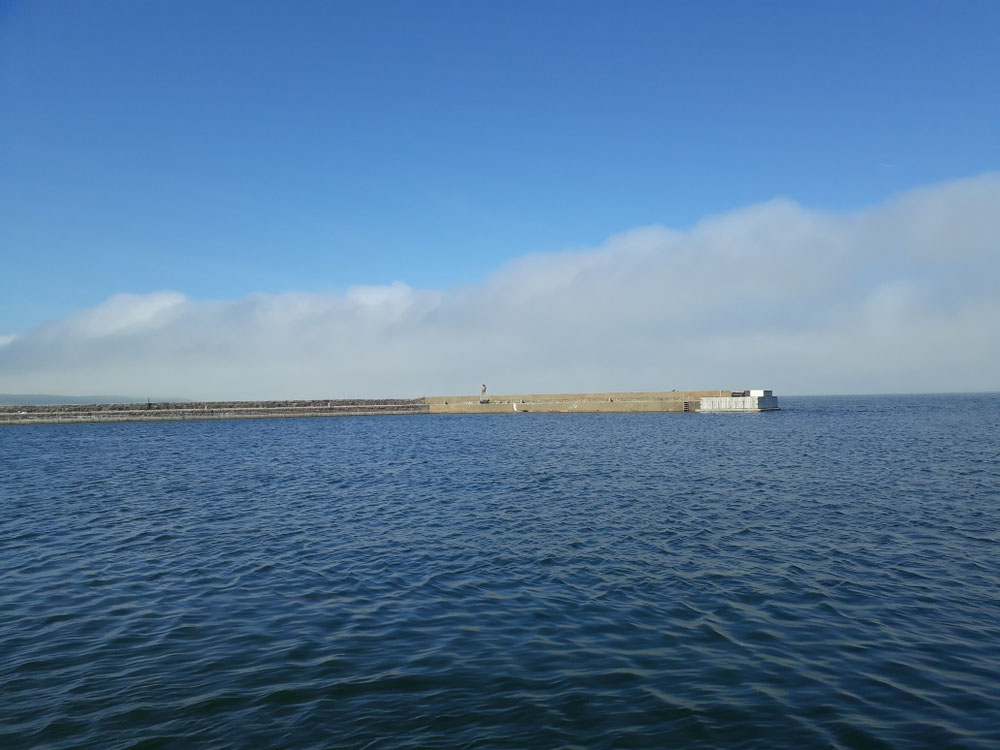 After arriving my sister and mother had announced to come and visit and bring dinner. They also suggested us to absolutely not miss seeing the kings grave of Kivik. 
So off we went to tick off our local dose of culture. 
Afterward we had our nicely dressed visitors arriving. 
Awesome dinner on the boat with a swim afterwards.