Posts tagged with "Läckö"
---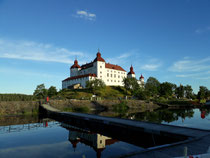 At this castle was the original plan to celebrate midsommar and arrive Thursday evening last week. Now I'm here with my new crew Fredrik and Lovisa, my sister. Today we have had a gorgeous sunny day and fair winds. We managed to sail for some time, but then the wind shifted against us and got so faint that we motored the last 1.5 h. After arriving, it got so hot we needed to switch into swim gear. Lovisa and Fredrik took the dinghy for a ride and I dipped myself at the back of the boat in 17°...
Important news
 · 18. June 2018
Göta kanal is really slower than I anticipated to get through. Had I known through my research that it would have been better to have one more week here, I would have planned accordingly. We skipped one day I thought of sailing on Vättern to enter the canal earlier for the last stretch. This part now is really nice and invites a bit more than before the Roxen lake to linger and stay. Now it looks as if we need tomorrow completely in the canal and then half of Wednesday. My hope is to spend...