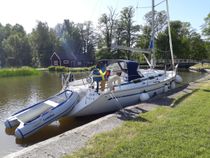 More delays, so SORRY! 
What a day today!
Right now we are docked longside before the first double lock in Hajstorp on our way to Sjötorp in the Vänern lake. 
We did the first lock and then the motor didn't start for no apparent reason. The instrument board, didn't show any lights. 
My first thought was, they are faint and I can't see them so just try again to press the on/off button, then press the motor start button. But nothing happened. 
Since we had just done our first downward lock of a double. We first decided to pull the boat to the next chamber. Here we realized that if I couldn't get the motor going after the lock there was no way to pull the boat out and tie it up safely. I called Hans the owner to discuss the situation and get tips to solve it, if it was a known problem. Sadly no solution surfaced. 
So I discussed the situation with the young female lock masters and we decided to reverse our maneuver and go upwards again but with the boat backward since there was a long waiting pier we could pull the boat to and then call for repair. 
I for the first time got off the boat to help pull it backwards. 
Suddenly realizing when it was back in the first chamber, that I needed to get onto the boat about 3 meters down now! 
I made a loophole in one of our ropes and used it as a ladder. One more problem solved today! 
Now we managed to get upwards again with the boat and climb over the bridge just before the lock pulling it backwards. You can see what we accomplished in the picture above. 
After the boat was fastened, I started calling one of the marines here in the area, that the lock master had a list of. 
After discussing my situation, with a mechanic whose name is Pär and will look at things tomorrow morning, he suggested to press the on/off button while listening in the motor room for a click to narrow down the problem. 
My mum helped and pressed the button while I had my ear in the motor room. 
Nothing I thought! 
Suddenly, just when I had closed the staircase, which opes up the compartment to the motor, it started! Wow!
It turned out my creative mum had started pressing other buttons and the instrument board suddenly had electricity again! 
I felt dumb first thinking, did I see it wrong? The instruments light up really shallow. But no the motor didn't start while in the lock, I checked instrument board more than twice. Also thinking that if I don't see it correctly, I  just try it again and again. Additionally I checked power downstairs and made sure the rod was in. All this I had done in the lock without success. Even when we were docked longside I tried again without success. 
So let's say my mum has a lucky hand.
Even so I don't trust the system anymore and Hans agreed, that it's better to check properly, especially since we will go down numerous locks now and in everyone I have to turn on and off the motor. 
So we're waiting for our repair man Pär to come tomorrow morning. 
Well this wasn't all that this day had to offer. This morning after having left our night harbor, we found out the bridge didn't open and needed repairs. So another manoeuvr and waiting for 45 minutes.
Additionally we had very strong wind today mostly sideways with enormous gusts (kulingar) from many directions. I had to use my fullest concentration and all my skills to keep us safe while waiting for I think 5 bridges to open today. 
Not enough about this we also had to wait 30 minutes for a train bridge to open. 
We had lunch after emptying out our toilet! 
We've managed all adversity and challenges today as a great team! 
All this at least happened in the sun and Gian and Nila managed to go swimming in a swimming pool.